Retaining walls are used for both temporary and permanent excavation support and are typically used for ground retention in basement construction or slope retention. The main purpose for these walls is to ensure that safe working conditions are maintained whilst the reduced dig is undertaken especially when there is a need to protect any adjacent structures from movement that may cause damage.
There are several considerations which need to be accounted for while choosing the appropriate construction method. In the first instance this will be the ground conditions and groundwater present beneath the site, followed by the retained height of the wall, required pile section and depth, surrounding surcharges and structures affecting the wall and construction sequence/propping.
Specialist Piling offers a full package for a Piled wall construction, from design concept through the pile construction and can include items such as capping beam installation and or the reduced level dig.
The types of piled retaining wall which we offer can be seen below;
This consists of a series of adjacent piles which are constructed to form an earth retaining structure, which can be in the form of a cantilever or propped wall. A contiguous wall consists of a row of unconnected cast-in-situ concrete piles which has a gap typically of 150mm between each pile. These are typically formed by using either a CFA or Rotary Bored method. A standard construction sequence would be as follows;
Construct pile from pile platform level
Install pile reinforcement designed to resist the bending moments
Allow concrete to cure and reach design strength
Install a reinforced capping beam to tie piles together, ensuring the wall acts as a monolithic structure
Commence reduced dig level
Install Temporary and/or Permanent propping where appropriate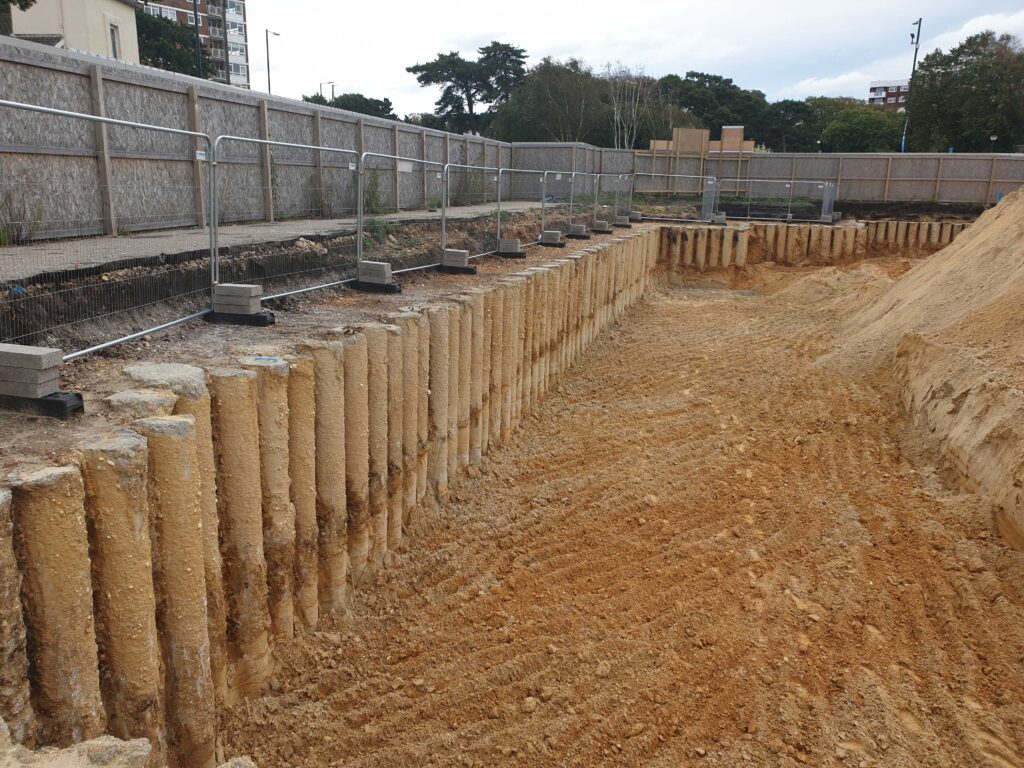 Like a contiguous pile wall however soft unreinforced female piles (typically) occupy the space between the reinforced male piles. This is to form a solid barrier free of gaps which acts as a retaining earth structure without the loss of fines and limiting the passage of water to seepages. Additional measures are required to create a fully water-tight wall following the construction of the Secant pile wall. A standard construction sequence would be as follows;
Installation of a 'guidewall' with predetermined spacing to accurately position the piles
Drill and cast a series of female piles
Drill the corresponding series of male piles through a previously cast female pile
Cast the male piles and reinforce with the designed pile cage, concrete left to bond with previously cast female piles
Install a reinforced capping beam to tie piles together, ensuring the wall acts as a monolithic structure
Commence reduced dig level
Install Temporary and/or Permanent propping where appropriate